CAT® MACHINES HELP BRING GOLF BACK TO BIG EVENT IN RIO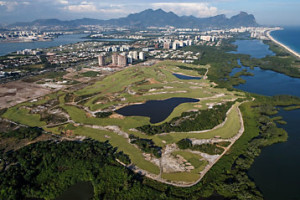 A Big Event is happening in Rio de Janeiro for the first time starting August 5 and after 112 years golf will once again be played. Construction of a new golf course was needed, and Cat® machines helped make it happen.
Located in the Barra da Tijuca zone, the project took about two years to complete and opened in late 2015. The 970,000 square meter course is considered one of the most modern in the country and the only course in Brazil approved by the Professional Golfers Association (PGA).
The construction was led by Tanedo S/A and an international team specializing in the development of golf courses. This team has a tradition of using only Cat equipment where they're contracted.
"SOTREQ WAS RESPONSIBLE FOR PROVIDING EQUIPMENT WITH HIGH PRODUCTION CAPACITY THAT WOULD ACHIEVE THE LEVEL OF QUALITY AND ACCURACY REQUIRED BY THE COMMITTEE"
Cat dealer Sotreq provided several pieces of Cat equipment for the project, including the D6N and D6K Dozers, 315D and 324D Excavators, 416E Backhoe and 305E Mini Excavator.
"Sotreq was responsible for providing equipment with high production capacity that would achieve the level of quality and accuracy required by the committee," explains Alexandre Bastos, Sotreq Commercial Manager.
The main challenge faced by Sotreq was providing machines with both agility and productivity, as Tanedo S/A committed to completing the golf course in the very short period of time stipulated by the events' committee.  To achieve this, Sotreq recommended the use of tilting buckets. "They are suitable to achieve the type of finish and terrain profiles needed by the committee. The use of such equipment made all the difference during field preparation," says Bastos.
"Given the importance of the project and especially the historical context, we could not be out of it. The golf course was designed with a new concept of design and is considered one of the most modern in the world. Being involved brings our dealership a tremendous amount of pride," concludes Bastos.
Source: Chevitarese, Camilla. "Sotreq nas Olimpíadas." ELO News, July 2016